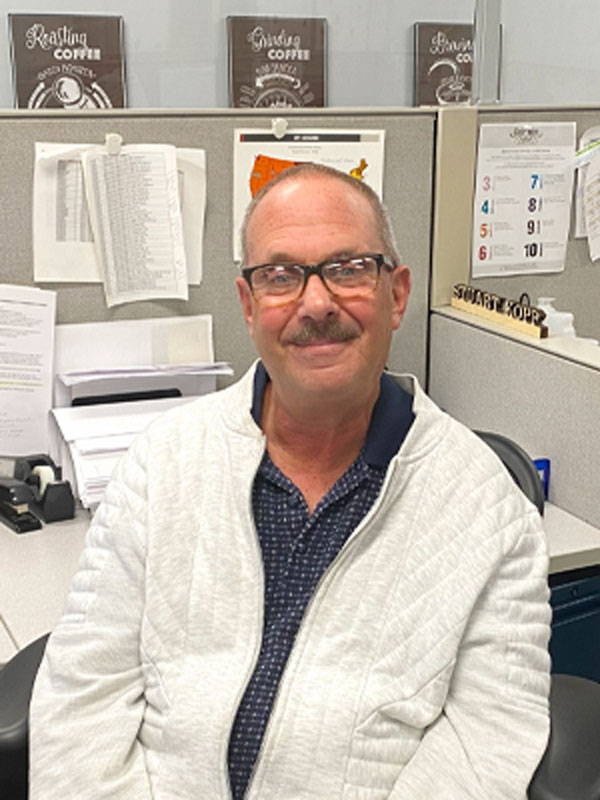 Stuart Kopf – Customer Care Representative

Stuart Kopf is an important member of the Barrie House Customer Care team. He has been servicing and developing private label OCS accounts with us for over 30 years and is our resident expert on whole bean coffee, legacy business, and coffee contract management. Along with assisting customers with new orders, inquiries and/or problems related to products and services, he oversees and supports all green coffee contracts for corporate customers. Stuart also shares his knowledge of products and services offered by our company to develop new business relationships as well as supports e-commerce customers with tracking updates, coffee pairing suggestions and help desk support for managing their subscriptions accounts.

To get to know Stuart a little better, we asked Stuart 20 rapid fire questions about himself. See the questions and his answers below!

20 Questions in Two Minutes
1. Years at Barrie House?
I believe I have 37 years in the books
2. Favorite part of your job?

I enjoy billing orders…entering and billing orders
3. Favorite coffee?

House Blend Extra Bold
4. Mug, tumbler, or paper cup?
Mug
5. Number of cups of coffee per day?

Two between 5am and 6am.
Another four during the day. So 5-6 a day
6. When do you have your first cup?

Officially at 6am every morning
7. Where did you grow up?
Flushing, Queens
8. Any nicknames (now or as a child)?
The Hoff
9. What do you like to do in your spare time?

I enjoy gardening, cooking and I enjoy my pets.
I have a 33 year old parrot, a couple of tanks of fish and a dog
10. Who should play you in a movie about your life?

Tom Hanks
11. Favorite musical artist/band?

Bruce Springsteen – the Boss

12. Favorite TV show?

This Is Us
13. Favorite sports team?

The New York Giants
14. Favorite meal?

A nice piece of halibut fish
15. Favorite season?

Summer
16. Dream vacation?

It was cancelled in September due to the virus
– a trip to Alaska

17. First concert?

An interesting concert – Diana Ross and the Supremes
when I was 13 years old. Stevie Wonder opened for them
18. Saturday or Sunday?

Saturday
19. What would be your superpower?

To Fly
20. One item you can't live without?

Coffee